"If there's one thing that really spoils [fill in blank with anything good] it's OTHER PEOPLE"
-Emily Strange, Stranger and Stranger
Emily is a 13-year-old girl who lives an alternative lifestyle and a mascot character created by Rob Reger for his company Cosmic Debris Etc. Inc.
History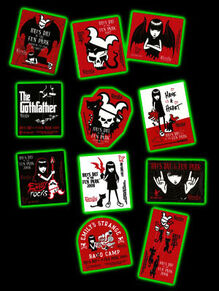 Emily was designed by Nathan Carrico of NHS, Inc. in 1991 for Santa Cruz Skateboards rider Ross Goodman. She later became a sticker distributed at concerts, record stores and skate shops to promote Cosmic Debris, the clothing line founded by artist and skateboarder Rob Reger and race car driver Matt Reed. [1]
Background
Not much is known about Emily's early life, but she is known to have both scientific aptitude and dark sensibilities from an early age. She got Mystery when she was an infant. [2] At age 6, she made a "spider cemetery" made of dead spiders for a school project. She made an anti-gravity machine for an early school project as well. [3]
Until the events of Dark Times, in which she enrolls in homeschooling, Emily had only attended a total of 13 days of school in her life. This is due to a combination of scheming and pure luck. Though she enjoys learning and education, she dislikes the standard school environment.
Emily lives with her mother, Patti, and they move often throughout the HarperCollins books. Emily has been supporting them both with her invention patents. As of Stranger and Stranger, she has patented a total of 77 inventions. [2]
Personality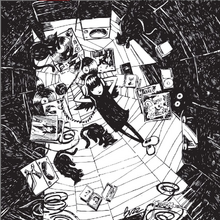 Emily is generally opposed to violence, hatred, and prejudice. She is a strict vegetarian and enjoys vegetable sandwiches, coffee, black cherry soda, and black licorice. She lives a nocturnal lifestyle, preferring to wake at sundown, when she eats dinner with Patti, and go to sleep at sunrise. Her best friends are her four cats, and they seem to be the only beings that she truly trusts.

She is a staunch individualist and actively rejects belonging to any clique or subculture. She prefers to spend her time alone inventing, creating art, skateboarding around town, playing video games, and coding on her Oddisee, an invention that serves as the "control center" for her laboratory.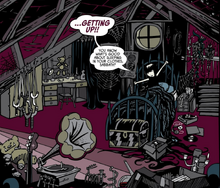 She carries around a slingshot and possibly other minor weaponry within her dress pockets. She wears a black dress that has abnormally large pockets. She is nocturnal and home-schools herself. She is also skilled in lock-picking techniques, pranks, and booby traps. She installs many booby traps and hidden compartments in her room, and she has won various skateboarding accolades.

She is gifted in the world of math and science, having created an amnesia machine, a time machine, a thought recorder, a cat translator, a cold-fusion cell, and a duplication machine, among other impressive inventions. She also created a cybernetic golem out of reanimated bird parts named Raven. As part of her home school curriculum, she also studied particle physics and complex number theory. She is a gifted programmer, effortlessly coding behaviors for her golem to carry out. Additionally, she has an interest in botany and weird plants, chemistry, technology, and biology. She is a mechanical genius, and she often gives tunings to toasters, speakers, and other substandard items around her. She is also a gifted locksmith and lock picker, having given panels about machining lock picks at lock sport conventions. [4]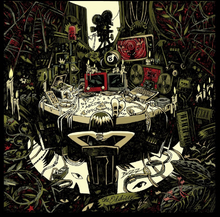 Emily is also a music lover and artist. She prefers punk, goth/hard rock and metal, and experimental music. She has a sizable tape and record collection of old school punk and rock, and she plays the guitar. She can also draw, paint, and sew. [2]
Emily's Cats
Main article: Emily's Cats
Emily is usually accompanied by her posse of four black cats, Mystery, Miles, NeeChee, and Sabbath.
Mystery, the only female cat of the four, has been Emily's cat since Emily was an infant. She is the "leader of the pack" and is usually denoted by her curly whiskers. Occasionally, she is drawn with a star on her right eye.
Miles has a missing eye, and is considered the "creative" cat of the posse.
NeeChee is the "philosopher" of the posse, his name being a pun on the name of the philosopher Nietzsche. He has a white striped tail, the result of a chemical accident. [2]
Sabbath, a newcomer to the posse, was rescued from the dilapidated ruins of a recently deceased cat lady's home by Emily. He has a nick in his left ear and is the youngest member of the posse.
External Links
Related Pages
References