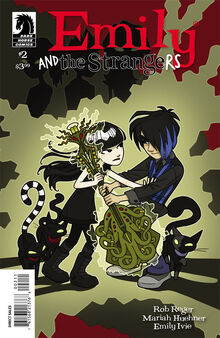 Emily and the Strangers is a comic series by Rob Reger, Mariah Huehner, Emily Ivie (#1-3), and Cat Farris (#4-9), as well as a fictional virtual band, featuring Emily and her friends, that released the single "Calling All Guitars". The series follows Emily as she joins a band in order to win a guitar with mystical powers.
Plot
[
]
Emily and the Strangers
[
]
Emily and the Strangers follows Emily as she submits a song to a radio station contest to win a guitar owned by fictional deceased musician Professa Kraken.
She wins the song contest, but in order to obtain the guitar, she must enter a battle of the bands competition with Evan Stranger, a multi-instrumentalist prodigy and radio intern. Evan introduces Emily to his band, consisting of twins Winston and Willow.
After an argument with Evan, Emily runs into Raven working a local record store. She becomes the band's drummer.
The band calls upon the ghost of Professa Kraken for advice after hours of unsatisfactory band rehearsal. He advises them to collaborate more effectively. They combine their keepsakes to summon a pianist named Trilogy.
The band customizes their instruments and eventually win the battle of the bands, which lands them a record deal offer. [1]
Emily and the Strangers: Breaking the Record
[
]
Emily and the Strangers: Breaking the Record takes place after the record deal offer. The band is introduced to the Awesomely Awesome record studio and manager, Mr. Crawly.
The band learns that Crawley threatens to repossess Kraken's guitar unless the band signs a legally binding contract that threatens to constrict their creativity.
Kraken's niece returns to the studio just as the contract sign date expires, and explains that she is the owner of Kraken's guitar. She allows Emily to keep the guitar and The Strangers decide to go on tour to spread information about the record studio's history of animal abuse. [2]
Emily and the Strangers: Road to Nowhere Tour
[
]
Emily and the Strangers: Road to Nowhere Tour is the final installment in the series, following the band as they compete against a rival band planted by Crawley and expose the studio's animal abuse.
Emily maintains a relationship with the band's members after the tour concludes, and they continue to create music and operate an animal shelter for the cats who were abused by the record company. [3]
Music
[
]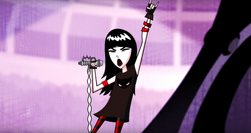 In 2013, the Emily and the Strangers single and music video for "Calling All Guitars" was successfully funded on Kickstarter and premiered at San Diego Comic-Con in July, 2013.
The music video features music and songwriting by Rob Reger, Chantal Claret, and John King. The art and animation are by Buzz Parker and Studio Ghostbot, respectively. [4]
External Links
[
]
Calling All Guitars Official Music Video
References
[
]