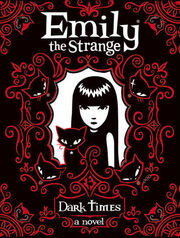 Emily the Strange: Dark Times is the 3rd in a series of 4 books that chronicle the adventures of
Emily Strange
. 248 pages of story and illustrations, hardbound and published by HarperCollins Publishers.
Emily's uniquely strange homeschool syllabus includes:
1. Time Travel 101
2. Advanced Spy Photography
3. Bonnet Basics
4. Great Aunts Through the Ages
5. Intro to Germ Theory
6. Care and Feeding of 'Squito Fish
7. Fundamentals of Black Rock
8. Spiderweb Embroidery
9. Historical & Contemporary Felines
10. Pop Quizzes
11. Foodstuffs of the 1780s
12. Thwarting Ancestral Enemies
13. Techniques in Parallel
Plot Summary
Edit
In her class, "Great Aunts through the Ages," Emily time travels all the back to the 1790's. Emily is on a quest to stop the death of one of her great aunts, but she must do this with out changing history, and while finding out what exactly causes her death in the first place. Her quest is of course not one that is with out danger.